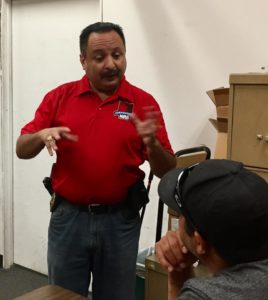 Our Approach
Special Enforcement and Security Services strives to be a "one stop shop" to provide it's client's with multiple services in one outlet. Being a BSIS licensed security academy allows us access to a wide variety of trained and professional security personnel, many are military or law enforcement veterans. Special Enforcement has provided specialized service for nearly 20 years. From the training and licensing of security guards, providing firearms training to professions and civilians, providing security services to individuals and businesses and partnering with Assured Live Scan Plus for Live Scan and ink card print services, Special Enforcement is proud to be of service.
Meet the Team
Those at Special Enforcement Security Service pride themselves on providing their clients, students and
the general public with highly trained and professional service.
Robert Sandoval Jr.
Robert Sandoval Jr. started Special Enforcement Security Services in 2000. He is a Persian Gulf Veteran of the United States Navy serving 3 tours. He is also a law enforcement veteran with over 20 years of service at the local and federal levels. He proudly instructs the responsible and safe handling of firearms as an NRA and DOJ instructor.
Malissa Rose
Malissa Rose joined Special Enforcement Security 3 years ago bringing nearly a decade of experience in the areas of corrections, background investigations and and security. She is now certified as an NRA Pistol Instructor, Refuse To Be A Victim Instructor, DOJ Instructor and a Certified Fingerprint Roller.
Steve Epling
Steve Epling came to Special Enforcement Security with Reserve Law Enforcement Officer experience 3 years ago. He is well versed is business management. He is also a Certified NRA Pistol Instructor as well as a DOJ Instructor.